HiFinance 5
---
SECTION 7.2.1.9U.1 - CANCELLATION REASONS
This option will only appear if you are running the Cards option.
When a card is cancelled, it is necessary to attach a reason for the cancellation. There are up to 30 reasons and this option allows you to define the meaning of each.
The CANCELLATION REASONS function is accessed as item 1 from the ERROR REASONS MENU. On selecting this function, the following will be displayed:
<![if !vml]>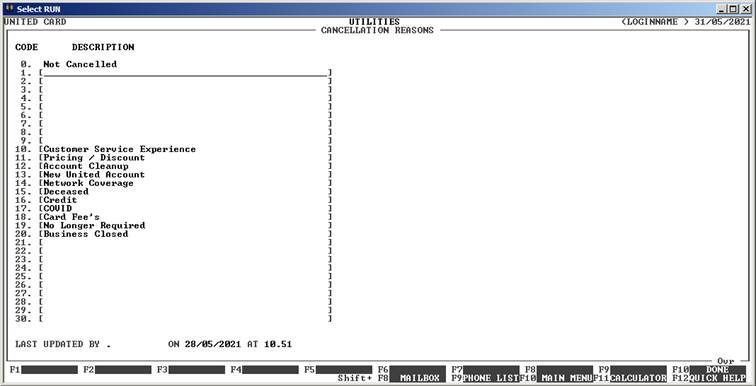 <![endif]>
To return to the ERROR REASONS MENU, press <ESC>.
Fields available on the CANCELLATION REASONS file.
Name                  Comments
CODE       This is a number from 0 to 30. 0 always means Not Cancelled. The others are user definable. You must not repeat a description. Lines with blank descriptions cannot be assigned.
DESCRIPTION The description of the Cancellation Reason. This field is up to 50 characters long.

  Return to Table of Contents