HiFinance 5
---
SECTION 1.3.8U.7 - WRITE-OFF OLD GIFT & PP CARDS
USAGE: This menu leads to special programs which are designed to help cleanup old Gift Cards and Pre-paid Cards. This program is only relevant for sites using the Cards System.
DISCUSSION: When cards are issued, they are used and then become redundant. This is specifically true for Gift Cards, which are single use and not rechargeable. The information should be held for at least 24 months, for reporting and accounting, but after that, the record has no information. Also, as the transactions are posted without being allocated, they are never removed and so the EOY delete routine will never be able to delete the cards.
The programs accessible here consist of 2 functions. The first will delete cards that have a zero balance, and no transactions after the beginning of last-year. The second is used to zero the balances of old cards, based on certain criteria. Often the second option is run first.
When you choose the option, the screen appears as follows:
<![if !vml]>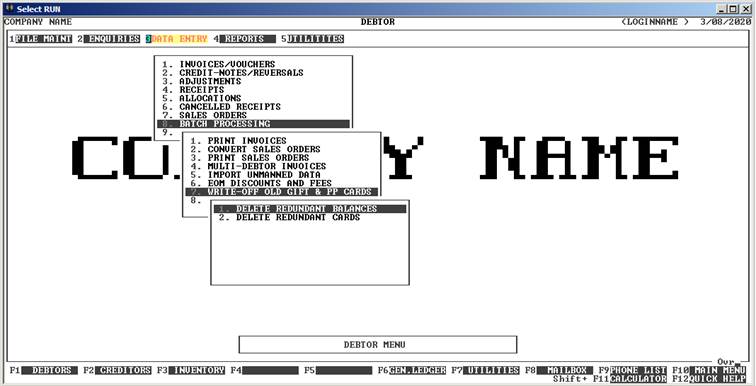 <![endif]>
To return to the previous menu, press <ESC>.

  Return to Table of Contents