Pipeline 3
---
SECTION 7.5.2 - LIST HEADERS
USAGE: To list the number of records and other information from various files within Pipeline.
DISCUSSION: Most files in Pipeline have header information that is not normally accessible or of any real value to the general Pipeline user. However, there are times when it is useful to know this information. An example is when rebuilding indexes, where it is often useful to know, before hand, how many records are to be rebuilt so that you can gauge approximately how long the process will take. Other information available includes, last invoice numbers, etc.
When this program starts, you are presented with the following screen:
<![if !vml]>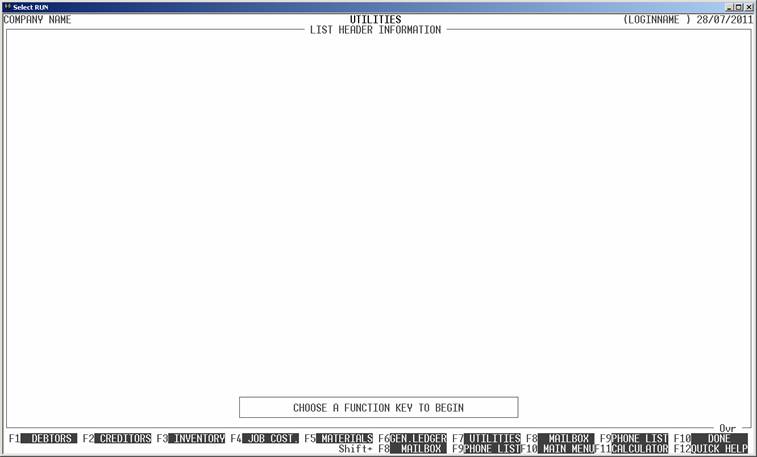 <![endif]>
Not all function keys will be available unless the options are enabled. Chose a function key (or number) from <F1> through <F9> corresponding with the sub-system you wish to display. For instance, to display Debtor information, press <F1> or 1.
The Debtor screen will typically look as follows:
<![if !vml]>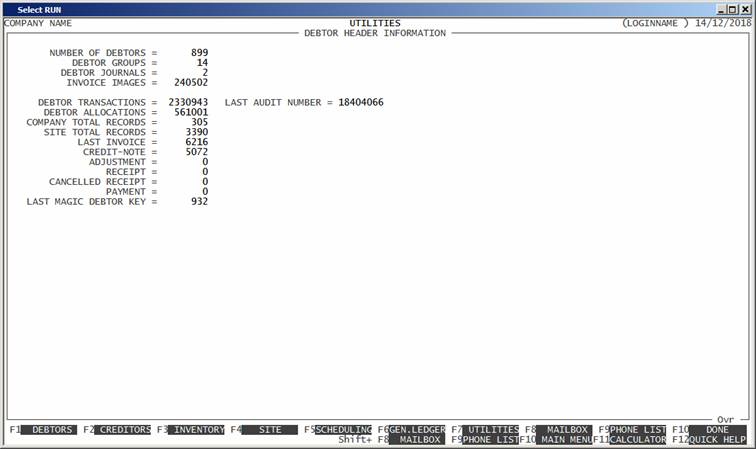 <![endif]>
… although, some extra totals are added to the end, for some installations, to reflect certain special files, only relevant to those sites.
To move to a different sub-system, press another function key (or number).
To exit from this program, press <F10> or <ESC>.
It should be noted that the information presented is current at the time the screen is displayed. If you are looking at a live system and you wish to refresh the screen (to show the latest data), re-depress the same function key.

  Return to Table of Contents