HiFinance 5
---
SECTION 7.2.3.2 - INVENTORY LOCATIONS
This function is only relevant if you are using multi-location stock. If you use this option, you must define certain information for each location you use.
The INVENTORY LOCATION MENU is accessed as item 2 from the INVENTORY TABLE MAINTENANCE MENU. On selecting this function, the following will be displayed:
<![if !vml]>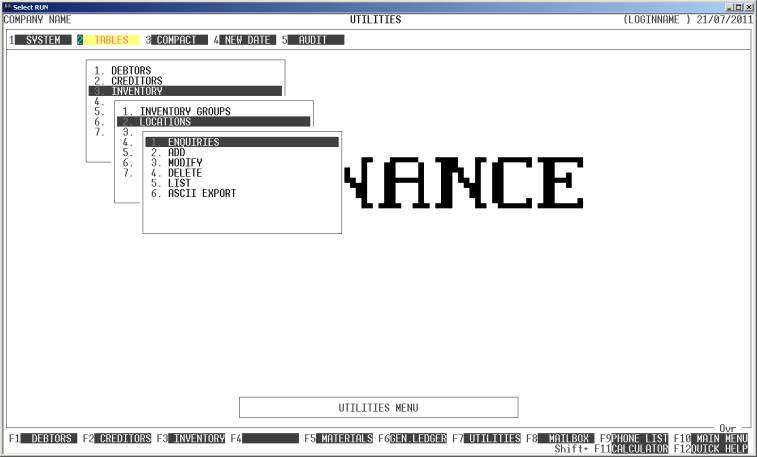 <![endif]>
To return to the INVENTORY TABLES MENU, press <ESC>.
Fields available on the INVENTORY LOCATIONS file.
Name                  Comments
LOCATION NUMBER    This is always a number from 1 to 99999999. However, the width that you see on reports, data-entry and enquiries, depends on how you set the maximum width in UTILITIES (see SECTION 7.1.2). The default is 3. This is the code by which the Location will be referenced throughout HiFinance. By default, HiFinance will create and not let you delete location 1.
SALES ACCOUNT    This is the General Ledger account that HiFinance will post sales to during INVOICING.
COST-OF-SALES ACCOUNT        This is the General Ledger account that HiFinance will post cost-of-sales to during INVOICING.
DESCRIPTION The full name of the Location, eg. OVERSEAS or STORAGE. It may be up to 50 characters long. This field must not be left blank.
MODIFIED ON/AT/BY  This displays the last time this record was modified. It is stamped with the date, time and the usercode of person who did the modification.
Note that the General Ledger accounts are only displayed, and tested for, if you have chosen to use multi-location stock and have also chosen to use the option to link the General Ledger via the locations file.

  Return to Table of Contents