HiFinance 5
---
SECTION 3.5.7U.1.1 - GATE PRICES MAINTENANCE
USAGE: To maintain the table of Gate Prices for the Cards system.
DISCUSSION: When you import transactions for a customer who is on contract, the system might have to compute cost plus. In this case, it uses the current gate prices in the computation. This function allows you to set these up.
To return to the GATE PRICES MENU, press <ESC>.
Initially, HiFinance will ask for a date. By default, this will be 1 plus the highest date already entered. You can choose a date that has already been entered, but this will not change any transactions that have already been processed. You can skip a date and HiFinance will use the last date to fill in the blank record(s). Thus, if there have been no changes for a week, it is not necessary to enter all the intervening days, just enter the one where the prices have changed.
Having chosen a date, the screen will appear as follows:
<![if !vml]>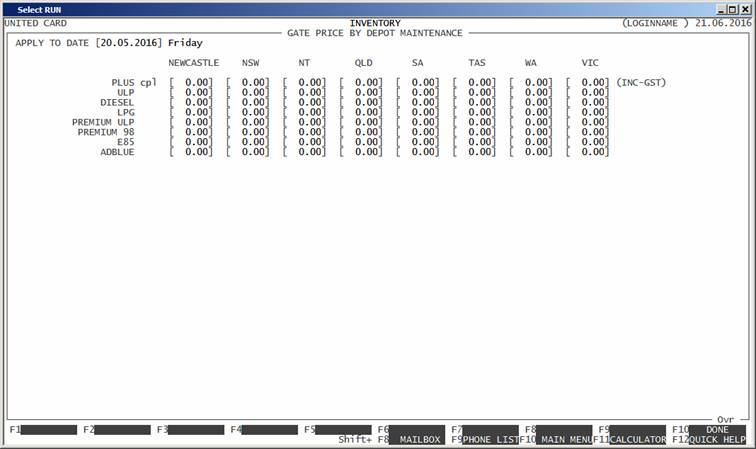 <![endif]>
Here you enter all the prices that have changed. Note that there is a spot for each fuel and each depot. If you leave a field blank, HiFinance will fill in the gaps with the last price that was entered for that cell.
Note that the prices are INC-GST.
To save the record, either press <Enter> past the last cell or press <F10> at any time. You will be asked to confirm your entry and then the record will be written back to the Gate Price master-file.
To cancel your entry, press <ESC>.

  Return to Table of Contents