HiFinance 5
---
SECTION 1.3.9I.3.4 - REVERSE SHIPMENT
USAGE: To reinstate a existing completed Shipment so that it can be modified, cancelled or re-saved. The Shipment you choose must exist and be complete. If the Shipment has not been updated (open), it cannot be dealt with by this program. The main purpose of this function is to take a Shipment which has wrong pricing, or other information, and reinstate it so that the data can be fixed and the Shipment re-saved.
DISCUSSION: When you start the REVERSE SHIPMENT program, the computer will initially ask for a Shipment Number. You will be presented with a screen displaying all the completed Shipments (which have not been deleted). Typically, the screen will appear as follows:
<![if !vml]>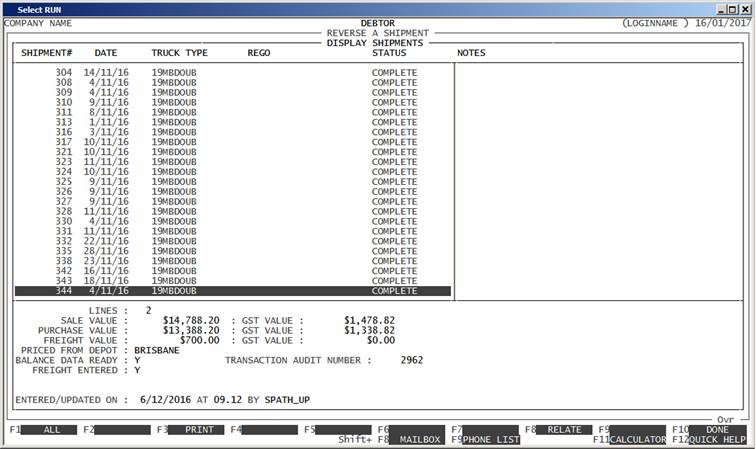 <![endif]>
Note that only completed Shipments are displayed. To display all Shipments, press <F1>, however, you cannot choose any line that is not labelled COMPLETE. Note also that you can use <F3> to print the details of the Shipment, in a tabular form. There will be a transaction audit number. Pressing <F8> will generate a RELATE report.
Note you cannot reverse a Shipment if any of the associated Invoices or Purchases have been allocated to. In this case, you will need to deallocate these transactions.
Scroll to the line you require and press <F10> or <Enter>. HiFinance will reverse all the information associated with the update. This will credit all Invoices, return any Purchases, reverse any entries in the General Ledger and reinstate any Sales Orders. An attempt to remove any Purchase Orders will be made, but this is not always successful.

  Return to Table of Contents