HiFinance 5
---
1.3.8U.8 - PRELOAD A RANGE OF GIFT CARDS
USAGE: To enable a range of Gift Cards. The range must be sequential. This is used when a customer chooses to purchase a large number of Gift Cards to distribute to their own customers. In this case, the main customer will be responsible for the total balance of the enabled cards.
DISCUSSION: This function is only relevant for sites using the Cards System.
When you start the PRELOAD A RANGE OF GIFT CARDS program you will be asked for certain parameters. The screen will display as follows:
<![if !vml]>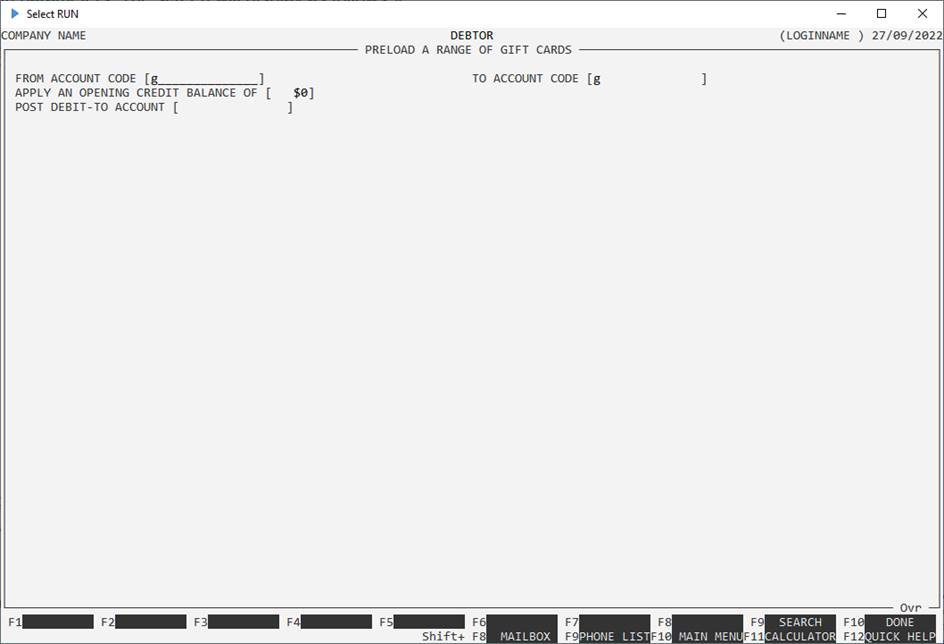 <![endif]>
The options are as follows:
ACCOUNT RANGE    Here you enter the first and last account codes for the Gift Cards you want enabled. The list is inclusive. Do not enter the card account code. Eg G12345 to G12354. The accounts you enter must exist.
APPLY AN OPENING CREDIT BALANCE OF           Here you enter a non-zero value. This will be the opening credit balance that will be applied to each card. If you need to apply 2 value, eg $30 and $50, you will need to run the program twice.
POST DEBIT-TO ACCOUNT        This is the account number of the main-account that will be debited with the total value posted to the individual cards. This account must not be on stop-credit or dormant. However, HiFinance will not check that the account has sufficient funds, as the arrangement with the customer might be that they have terms of payment.
Note that if a Gift account is on stop-credit, or has a balance, or has ever had any transactions, HiFinance will skip that account.
When you have finished entering the parameters, as described above, you will be required to enter a final prompt before the process begins. You must answer YES to continue.
The program will then scan the account ranges. Each account, in the range, will be enabled and a credit journal will be posted. When completed, the program will return you to the MAIN MENU.

  Return to Table of Contents