HiFinance 5
---
1.3.8U.7.2- DELETE REDUNDANT BALANCES
USAGE: To scan redundant Gift and Pre-paid cards (based on certain criteria) and set their balances to zero by adding a reversing transaction and updating the General Ledger.
DISCUSSION: This function is only relevant for sites using the Cards System.
When you start the DELETE REDUNDANT BALANCES program you will be asked for certain parameters. The screen will display as follows:
<![if !vml]>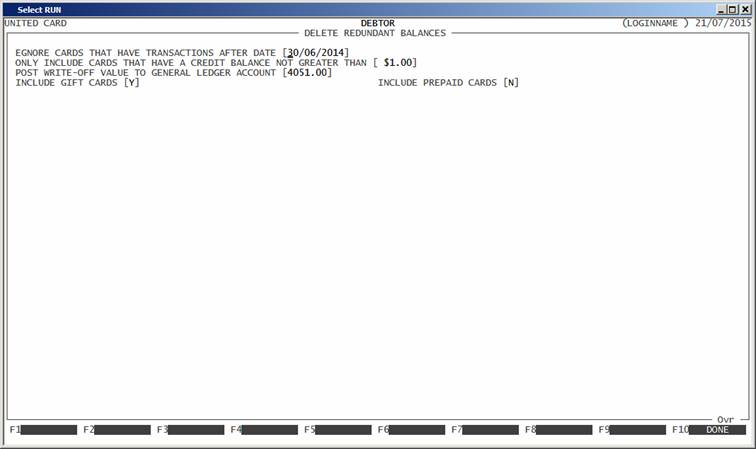 <![endif]>
The options are as follows:
EGNORE CARDS THAT HAVE TRANSACTIONS AFTER DATE     This allows you to enter a cut off date, which defines old cards. By default, HiFinance will enter the last date of last-year. This means that if a card has been used this financial year, it will be ignored in the process.
ONLY INCLUDE CARDS THAT HAVE A CREDIT BALANCE NOT GREATER THAN Here you enter the maximum write off amount. So, if you enter $1, HiFinance will ignore any card that has a credit balance greater than that. $1 is reasonable because anyone using a Gift Card is unlikely to go back and use up the last few cents on a card. You might, however chose to be more aggressive and clear very old cards that have a balance of say, $10.
POST WRITE-OFF VALUE TO GENERAL LEDGER ACCOUNT     This is the General Ledger account that you wish to post the write off amounts to. The other side will go to Trade Debtors.
INCLUDE GIFT CARDS   If you wish to include Gift Cards in the process, enter Y. otherwise enter N.
INCLUDE PREPAID CARDS        If you wish to include Pre-paid Cards in the process, enter Y. otherwise enter N.
When you have finished entering the parameters, as described above, you will be required to enter a final prompt before the process begins. You must answer YES to continue.
The program will then scan the G and P cards, excluding GP and PP cards and excluding cards based on your stated parameters. All cards that pass the tests will then have an adjustment applied, to clear their balance and the General Ledger will also be updated. The date of the transactions will always be the last day of this financial year. The program will continue until ever card is check/updated and then you will be returned to MENU.

  Return to Table of Contents